By Detector |
29 May 2010
If you are project developer or freelancer, TimeSheet is excellent tool for you. It's a time recording tool, that works on Windows platform. The app will keep track of the spent hours on each task and each project. In that way, you will have more precise data when you need to create reports or generate invoices and you will stop losing money for those extra hours you work but never included in the bill.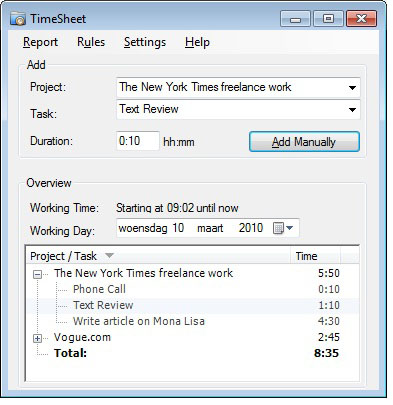 TimeSheet is based on a very simple principle: the program lets you to associate each application you run with a specific project and calculates the time you spend using that app. The association between application and project is done automatically, with TimeSheet displaying a desktop alert every time you run an app for the first time. Once your work day is over, or when you're done with your project, you can easily check the total amount of work time in TimeSheet's reports – and export the data to Excel.
Here are some more key features for TimeSheet app:
Real time logging of tasks and projects;
Use rules to automatically determine the task and project working on;
No data entry- unless you want to add something specific;
Less time spend on administration;
Accurate project budget control;
Increase your profits: bill the registered hours you easily would forget;
Improve your productivity;
Track billable and non-billable working hours accurately;
Automatic attendance logging;
Use historic recorded data to allow for better future project budgeting;
Reports can be exported to Excel;
The negative side of app association idea is that time tracking based on used applications is not that accurate and the program's configuration sometimes can be a bit tricky – but overall, TimeSheet app is very easy to use.
Download TimeSheet here.
If you look for other cross platform (Windows, Linux, MacOS) time recording tool, check this DetectorPRO article for TimeEdition application.
Tags | Business, Project management, Software, Windows