By Viktor Ustijanoski |
12 January 2011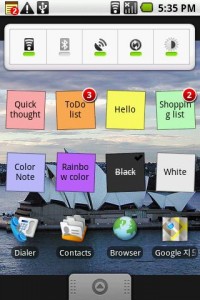 Color Note is a simple note app. And it's FREE. It give you a quick and simple note editing experience when you write notes, emails, message, shopping lists and to-do lists. The best of all is that you can organize your notes by color and stick them to the main screen, or use just as a powerful reminder so you will not miss a thing. Here are all app features:
- Organize notes by color
- Sticky Note Widget
- Checklist for ToDo & Shopping
- Password Lock/Unlock
- Secured Backup to SD
- List/Grid View
- Search notes
- Notepad with ColorDict Add-On
- Powerful Reminder : Time Alarm, All day, Repetition with pin on status bar
- Quick memo
You can install it by downloading from here.
Tags | Android, Application, Gadgets, Software