By Detector |
18 April 2012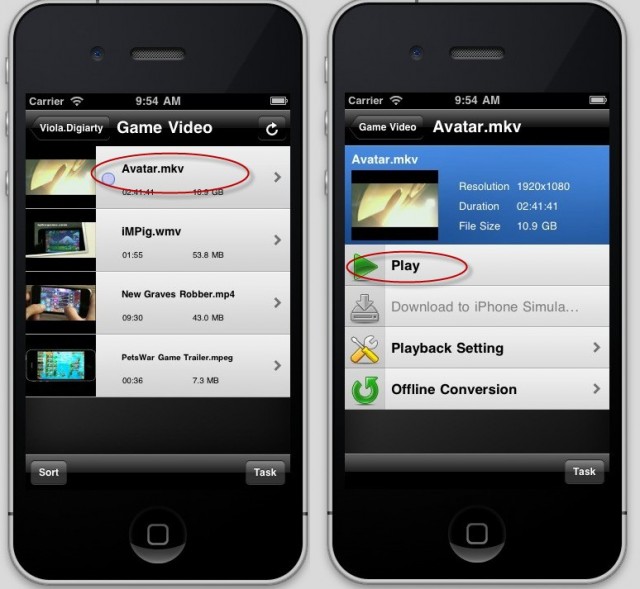 Every time when you want to transfer a movie from the computer to iPhone, there are two things we should take into consideration: the Space and the Format. It's OK to put one or two movies to iPad 32GB. But what if it happens on an iPhone 8GB? As to the movie format, you use Handbrake to convert it to MP4 or other format that Apple can support, and then sync to the iPhone. Actually, I want to say the format conversion and movie transfer are painful.
Apple fans may be familiar with Air Video because this video streaming app helps them avoid the above two problems. But it costs us 3 bucks. So when talking about video streaming app, there should be something alternative – something free and powerful in the field of video streaming.
Air Playit, (released by Digiarty Software, Inc.) by far is the most useful free app that makes your video streaming to iPhone, iPad, iPod relatively easy among all other streaming alternatives.
With the help of Wi-Fi, 3G/4G network capability of your iPhone, Air Playit enables you stream all the movie you stored on your PC or Mac to your iPhone, iPad, iPod without lengthy format pre-conversion and sync.
How to Stream Movie to iPhone with Air Playit?
Before you start the movie streaming, please make sure you have installed the Air Playit Server on your PC/Mac and the App Client on your device so that the client can interact with your server in a smooth way.
About the Air Playit Server:
There are six buttons to specify your own server: Information, Permission, Shared Folder, Conversion, Web and Setting.
Movies and videos that are added on the Shared Folder can be streamed to the app client. And make sure every time when you stream video to iPhone, the Air Playit server is in running condition.
About the Air Playit Client:
Run the client on your device. The app client can automatically detect the network by Bonjour Server and interact with the Air Playit server with local/remote Wi-Fi, 3G/3G network. Then you can browse the folder in the client and play the video that you like.
Other Key Features about the Air Playit:
1. Air Playit provides you with another option to manually add the Port and IP.
2. It supports videos in the formats like AVI, FLV, MKV, M2TS, AVCHD, etc. If you want to download it to your iPhone for playback when there's no network connection, you can add these videos into offline conversion task on iDevice or server.
3. Cache all music files to the Download Library for easy playback on iPad, iPhone.
4. Automatically list the recent played videos and remember the last play point for each video.
5. Supports Apple TV-Out. Stream your video to home TV via iPhone, iPad.
For more features about Air Playit, please visit:
http://www.airplayit.com
This is guest post written of Emma from Digiarty Software, Inc.
Tags | Apple, Application, iPhone, Movie, streaming, Video