By Viktor Ustijanoski |
04 May 2010
Here is new manual how to install Vuze (all versions) on Ubuntu 10.04 + . We need to install JRE (Java Runtime Environment) first. Becouse JRE from this Ubuntu version are in partner repositories we must first select the partner repositories and then install JRE. The process is very easy for all Ubuntu users.
Go to System/Administration/Software Sources and choose Other Software tab like on picture. Select http://archive.canonical.com/ubuntu lucid partner and click on close.
Reload the repositories or you can do that with terminal, just copy/paste this line (Ctrl+Shift+V – to paste in terminal):
sudo apt-get update && sudo apt-get install sun-java6-jre sun-java6-plugin sun-java6-fonts
After JRE installation, download Vuze from Official Site or click here.
Unpack it to the desktop.
Go to your home folder and create new folder ".azureus" with dot in front.
From Nautilus (window manager) View menu, choose "show hidden files".

Copy All files from Vuze folder on your desktop into newly created ".azureus" folder.
You are almost ready. Now you need to add a program launcher to Applications menu. Go to System/Preferences/Main Menu. Then Choose Internet and click "New Item". On the Create Launcher window choose Browse. Then on new Choose an Application window right click to choose Show Hidden Files. Go to your Home folder/.azureus and click on "vuze".

Next, you can try adding the icon with drag and drop. Personally, I have problems adding Vuze icon with drag and drop so you can add it manually as follows:
Click on spiral icon and from the left Nautilus menu choose File System (Disk Icon)
Next, from the right menu choose folders: home/YourName/.azureus/vuze.png and click on open. It will add vuze.png icon to the Launcher. Click Close and you are ready.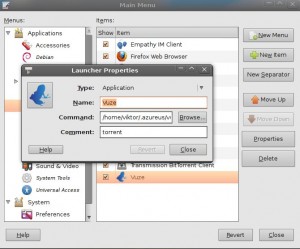 Go to Applications/Internet/Vuze to start your new installed application.
Tags | Howto, Installation, Linux, Software, Ubuntu