Mozilla has expanded the possibility of checking version of browser plug-ins in all major browsers currently available on the market.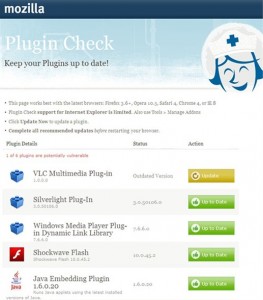 In fact, Mozilla on their website to check the plug-ins allow users of Firefox to check the latest version of the plug-ins. The same check is also available for users of Internet Explorer 7 and 8, Chrome 4, Opera 10.5, and Safari 4.
Mozilla started its site for checking of the plug-ins in October last year, after it was found that the very old and incompatible plug-ins guilty for many problems related to stability and security of the browsers.
According the company there is already positive results, which means that significantly higher number of users have the latest version of the plug-ins.
More information can be found on the official blog .
Tags | Browsers, Gadgets, Internet, News