By Detector |
14 December 2010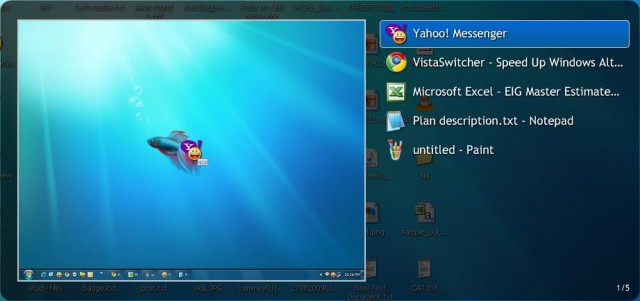 Ability to switch between windows in Windows 7 is quite improved, but still not at the level you'd expect. Things become worse if you do not know the ability to switch between windows in Windows using shortcuts Alt Tab. Therefore, if you have more than one monitor, or simply looking for more advanced features, try some software alternatives.
Fortunately, there are alternatives and some of them are really great. A good example is software called VistaSwitcher. Despite its name, it will normally work on XP, Vista and Windows 7, and there is also a custom version for 64-bit Windows.
Main Features:
Outstanding UI, semi-transparent backgrounds and anti aliased fonts
Live window previews and desktop under Windows Vista and 7
Task list with mouse-over selection
Multiple task selection, tile windows vertically or horizontally
Minimize, maximize, restore, close windows and groups of windows
Compatible with UAC, Works with elevated applications
Small and fast, native 64-bit version available
Multilingual user interface (Unicode based)
It's FREE for any use!
VistaSwitcher is really a great alternative to switch between open windows in Windows. Not seek a lot of resources, offers a variety of handy features, especially for those who have a computer connected to more than one monitor, and it is extremely easy to use. Although there are few little things which could be improved, this is still a great FREE program that will not disappoint you.
Name: VistaSwitcher 1.1.4
Usage: Tool for visualization of moving through opened application
Supported platforms: Windows XP/Vista/7
Size: 371 kB
Status: Freeware
Download: http://www.ntwind.com/software
URL: http://www.ntwind.com/software
Tags | freeware, Software, tool, visualization, Windows