By Viktor Ustijanoski |
25 May 2011
The popular linux distro Fedora project has released version 15, and is the first major Linux distribution to include GNOME 3 as the default desktop environment.
GNOME 3 includes the new "GNOME Shell" user interface which requires 3D video acceleration, which Fedora provides with open source drivers for Nvidia, AMD (ATI) and Intel, including support for "Sandybridge" GPUs.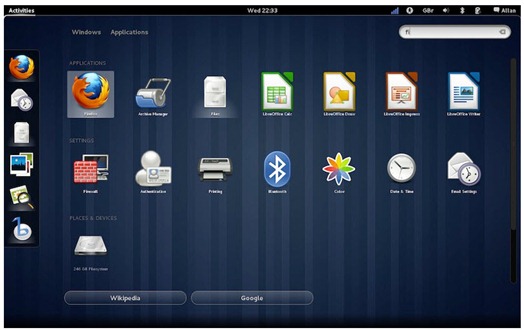 On this release, Firefox 4 is the default browser and LibreOffice productivity suite replace Oracle's OpenOffice.org.
There are a number of user-facing technical improvements in Fedora 15. One is a new crash reporting utility that can use remote servers hosted by the Fedora project to do coredump tracing. It will make it easier for upstream developers to troubleshoot software bugs.
Under the hood there is Linux kernel 2.6.38 and a new service manager that will speed boot times, Systemd – developed by Red Hat's Lennart Poettering, the creator of PulseAudio.
For security there is a new dynamic firewall service that supports firewall changes without the need for a restart, and also improved SElinux.
You can download Fedora 15 from the official website. There are 32bit and 64 bit versions with Live CDs for GNOME, KDE, LXDE, and XFCE users.
Tags | Fedora, Linux, Software