By Detector |
14 December 2012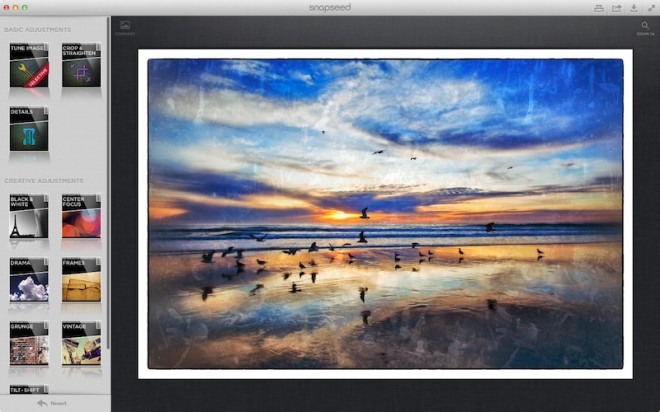 Nik Software released a photo editing app for the iPad in the summer of 2011. It became hugely popular mainly because it was so simple to use. It's instinctive touch screen UI made filtering and adding effects, kids' play. In a couple of months, the app was updated and ready for use on iPhone and iPod touch.
Though the company announced plans for an Android version of the app, when Nik was acquired by Google in the fall of 2011, eyebrows were raised. However the Senior VP Engineering Vic Gundotra asserted that that plan was not being shelved.
In fact, it seems that Google made this their top priority mission and have rolled out a robust photo editing tool for Android devices. This is available on all Android devices with minimum OS of ICS. Considering that most Android devices that have been released in the recent past are ICS or Jelly Bean, nearly all the Android devices out there today can make use of Snapseed.
Probably the best news for Android device owners is that, not only is this app available at no cost, it will be free of ads as well. So Snapseed really scores over the competition: easy to use, and free!
Apple device owners can take heart from the fact that this cool tool is now available for free on iOS devices too. Initially, idevice owners had to shell out $ 5 to download this app. Probably that is why there is an extra feature now available for iOS that has not yet been offered to Android users: scratch and texture effects, frame type options, and frame color adjustment. No doubt, we will soon see these being offered to Android users too, but for now, they are an Apple users' privilege.
Editing with Snapseed is simple and fun.
Select the photo you want to edit
Choose the editing tool/filter from the sidebar
You get instructions on how to make the modifications
Swipe up or down to select the augmentation
Swipe left or to the right to adjust that augmentation
Easy? I told you so!
Of course, if you're a cowboy and want to do a little in depth editing, you may need to do more than just swipe horizontally or vertically; but for mere mortals like me, the swiping suffices pretty well.
These are the editing tools you will find in Snapseed:
Crop
Straighten
Tune Image
Rotate
Selective Adjust
Auto adjust (if you're feeling lazy and just need a quick fix)
Filters:
Vintage: Makes your picture look like you're from the hippy era, only your hair and clothes are all wrong
Black and White: Need I say more?
Tilt Shift
Drama: Now here's something interesting. Increase the saturation and filter strength to create that dramatic effect
Grunge: Well, if you want to give it that dirty and grunged up look! The coolest filter.
You can also add borders to your images if you want.
After fooling around with all the filters, let's say you have tears in your eyes because you wish you hadn't; Presto, no problem! Just revert it to the original.
You can also share your photos directly to Google + and as there is integration with this site, the sharing is super quick and easy. You can also share your photos to other social networking sites like Facebook and Twitter, or email them directly from the app itself.
This app is amazingly cool and is capable of keeping a user entertained for some time. While it may not have as much depth or as many options as some other photo editing apps, the fact that it is free and is easy to use, may well push up the popularity of Snapseed. You can download Snapseed from the Google Play Store.
This is a guest post by Mark Bennett of OnlineComcastcom click here for our website that offers savings and current information on comcast cable and internet.
Tags | Android, Nik Software, Photo Editing, Photography, Snapseed, Software