By Detector |
20 December 2012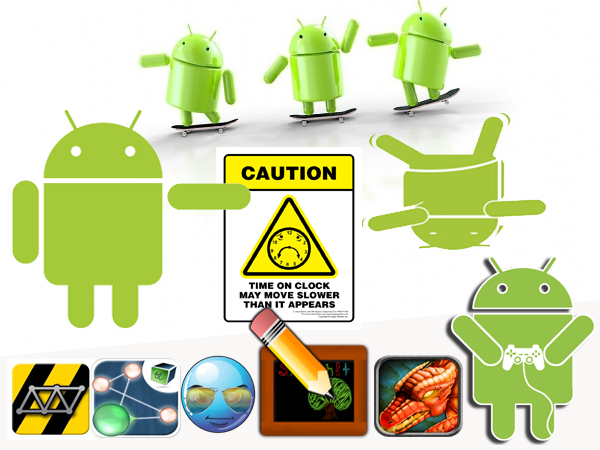 Android is the life breath of millions of mobile devices in several countries across the world. This is a world-class platform that offers opportunity to create apps and games for Android users and others worldwide. This operating system that has become quite popular has witnessed millions of users downloading apps every month. Of these several hundred thousand apps, there are few that are ranked highest by popularity and usage. These apps are sort of addictive and help kill boredom. Some of the top such apps are listed below:
X Construction

How would you like to picture yourself as an important construction engineer entrusted with the task of constructing a large bridge? Imagine the amount of planning and effort it is going to take to build a bridge of that magnitude. Remember that the bridge needs to be strong, functional and remain aesthetic at the same time. This is one real challenge and the great thing is that you can go on a trial and error method because it is just a game. You can build it, pull it down and build it all over again. There will be a train going across the bridge, hence it has to be stable enough to carry that many passengers across safely. This app is certainly going to keep you busy and kill all the boredom by the time you are done.
https://play.google.com/store/apps/details?id=de.hms.xconstruction&feature=search_result#?t=W251bGwsMSwyLDEsImRlLmhtcy54Y29uc3RydWN0aW9uIl0.
Link It

How can a set of pearls keep one busy and help kill boredom? You'll never know until your try Link It. The basic object is to link all the pearls. After you are done with linking all the pearls you need to get back to where you started from. The starting point always starts off with a green pearl. Each pearl has an arrow sticking out which indicates the direction of the link. You can maneuver the white pearl in any direction by swiping. Tap the green pearl to initiate the linking process. The lite version of the game has 25 levels that you can reach up to.
https://play.google.com/store/apps/details?id=com.boolbalabs.linkit&feature=search_result#?t=W251bGwsMSwxLDEsImNvbS5ib29sYmFsYWJzLmxpbmtpdCJd
Cestos 2 Party Time
You may have heard of Cestos, this game is a sequel to that. It is a multiplayer game that was first introduced by Android and is still very popular. It is based on an elementary principle of physics or rather- vector physics, where quantity has scale and direction. The game has some mind boggling graphics that will floor you. You are given set of marbles which need to be controlled according to the pace and speed at which they travel. When all the players are ready and all the marbles are set to roll, the one who gets past the pits and hidden mines to reach the destination is the winner. When you graduate to the other levels the excitement increases with no threat of the game lagging even with the slowest of internet connections. Kick out boredom and add spice to the group playing with you.
https://play.google.com/store/apps/details?id=com.chickenbrickstudios.cestos2&feature=search_result
Sketch Online

If you remember having played the game "What The Doodle" you will realize that Sketch Online is the alternative to that. You need to sketch a drawing based on the input from the server. You will be given the name of the object and need to sketch it on the sketching board. You may use different colors and brushes and give others a chance to guess the object correctly. There is a time limit in which you need to accomplish this. As time is of essence, you have the option of skipping a word if you have difficulty in guessing it correctly. You can move on to the next object and try your luck. This game is bound to keep you engrossed and a sure cure for boredom.
https://play.google.com/store/apps/details?id=com.into.sketchit&feature=search_result#?t=W251bGwsMSwyLDEsImNvbS5pbnRvLnNrZXRjaGl0Il0.
Parallel Kingdom

You don't have to set your imagination on fire and think that you are going to play King and have a realm of your own. Rather, you are in the modern day with a Global Positioning System from Google to help you. You need to locate the others and fight with them, meet others inside the game. You need to plant flags to establish your territory. You can plant trees, collect resources and fight different types of creatures. This game is real fun and can be enjoyed thoroughly.
https://play.google.com/store/apps/details?id=com.silvermoon.client&feature=search_result#?t=W251bGwsMSwyLDEsImNvbS5zaWx2ZXJtb29uLmNsaWVudCJd
This is a guest post by Lance Goodman of dishtvoffer.com, a site that offers savings and current information on dish tv everywhere near your region, as well as dish.com services.
Tags | Android, Android Market, Application Store, Games, Google Play, Software