By Detector |
20 March 2013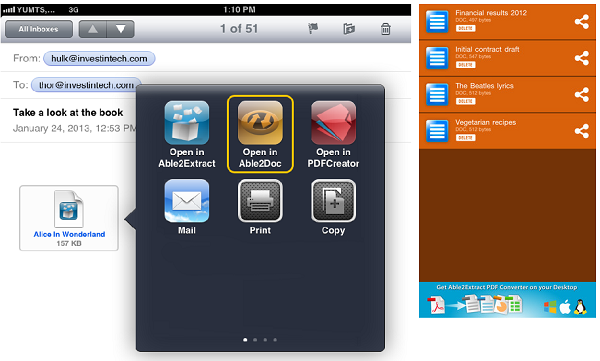 As you know, the capabilities of a smartphone or tablet can be extended endlessly with apps, allowing you to perform the most complex document tasks when you least expect it. We all know the scenario: you leave work thinking the day is done, but then your colleague emails you needing a quick last minute change on a document.
It happens all too often and, adding salt to injury, it usually happens with PDF files—ones that can't be easily edited. Ever been there before?
With one app, though, you can easily get around that. For simple PDF to Word conversions, take a look at Able2Doc PDF to Word, a new mobile app released by PDF converter solutions company, Investintech.com, Inc.
Key Features of Able2Doc PDF to Word
With Able2Doc PDF to Word you can convert hard to edit PDF files to MS Word right from your Android and iOS devices. The app works for tablets or smartphones, and is free to download. Here's a closer look.
1. User-Friendly Interface
The user interface is designed to work seamlessly on mobile devices and touch screens. To convert PDFs to Word you won't even need to open the app.
1. Locate your file (this could be in your email, SD card, or default file manager)
2. Long press or tap on the PDF. Then choose to open it with Able2Doc.
Thus, what is normally thought of as a tedious process is now scaled down to 2 taps—the same amount of effort it takes to access a text message.
2. Lightweight and Small in Size
This mobile PDF to DOC converter is quick, lightweight and doesn't tie up your device's resources. File conversions are done on the company's servers, not on your device. This means that the file conversion is managed properly and carried out efficiently then sent back to you.
3. Accurate Conversions
Just because you're converting PDFs on your mobile device, doesn't mean that you can't get quality results. Your PDF files are converted with the same advanced conversion technology that powers the original Able2Doc desktop version.
4. Centralized File List
The file list is where you'll find your converted docs and it's also the place where you can share and interact with them. If you're constantly losing track of where you store your files, Able2Doc's centralized file list will be your favourite feature.
From here, you can perform the most common tasks. Tap on the Share button to select from a list of sharing services. Or simply tap on the file itself and you can edit it in your default word processing app.
5. Security Guaranteed
Also, there's no need to worry about the confidential PDF files you just converted. PDF files are kept on Investintech.com's servers for only 24 hours. After that they're deleted permanently. You can convert PDFs risk-free. For added security, you can also manually delete them from the File list once you're done with it.
As working on the go becomes more common, the apps on your device will mean the difference between getting the job done and struggling to get it done. It goes without saying that Able2Doc PDF to Word is geared towards the former.
Got last minute edits to do? Ready to convert? You can find the PDF to Word app for free on the Investintech.com site along with help guides and resources. The apps can also be downloaded directly from the Google Play Store and iTunes App Store.
Tags | App Store, Apple, convert, Google Play, iTunes, Mobile, PDF to Word, Software