By Detector |
21 June 2010
If your Windows 7 is not licensed it is very possible to get the Microsoft update in form of WGA Notification – Windows Genuine Advantage Notification or GENUINE warning. If you are infected with these warnings – your windows updates will be terminated until you license the product and there will be startup warnings that you must license the system. Also you background will gone and WGA watermark will be inserted remaining you all the time that your Windows is not licensed.
So, how to remove these warnings? In Windows XP we do that with simple registry modification – check here, but for Windows 7 we found excellent tool that will remove WGA permanently.
The tool is called removeWAT and you can download it here. This tool removes WAT (Windows Activation Technologies) completely from the OS, whilst still retaining genuine status and receiving all critical and optional updates from Microsoft. After installation, you can also pass the genuine check in Windows Defender.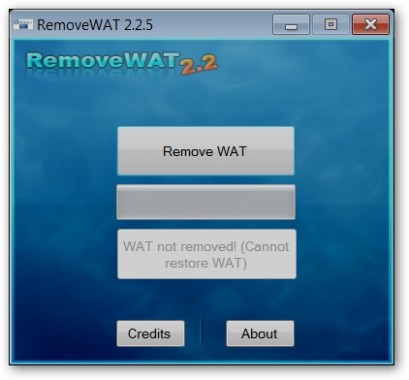 After downloading the patch, copy the file to the C: disk and before launching you must have Administrator rights. After patching your system by clicking remove WAT, restart and live happy and free.
Tags | genuine, WGA, Windows, Windows 7