By Detector |
29 March 2009
Windows 7 solution for removing Genuine Advantage Notification is here.
If your Windows XP is not licensed and your computer is connected to internet, it is very possible to get the newest Microsoft update in form of WGA Notification – Windows Genuine Advantage Notification or GENUINE warning.
This update will remind you all time that your Windows XP Operating System is not licensed and it will give options for licensing. Also when your system is already started, the WGA process is always active in your taskbar and there is no way to turn off because it will be started again automatically and continue with annoying warnings.
But here is simple tutorial how to remove genuine warnings: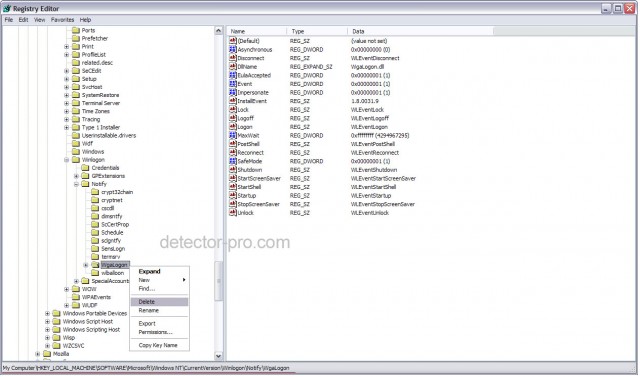 Second Update and very functional tutorial:
First – click Start then Run and type "regedit" without quotes and press Enter
Go to My Computer\HKEY_LOCAL_MACHINE\SOFTWARE\Microsoft\Windows NT\CurrentVersion\Winlogon\Notify. In this location delete the folder "WgaLogon" and all content with name WgaLogon. If there is no WgaLogon folder continue with next steps.
Restart your computer. After restart WGA will not be active and you can remove it completely following the next steps:
Set your folders options to show hidden and protected Windows files – go to My Computer/Tools/Folder Options and then choose View. From the View tab choose "Show hidden files and folders" and uncheck "Hide protected operating system files" and click OK
Now, Go to folder Windows\System32\dllcache, find and delete "WgaTray.exe". Also, check for "WgaTray.exe" in Windows\System32\, and if you find it delete it, and search for "Wga*.*" with Start-Search-All files and folders and delete everything that starts with "Wga" (Wgatray.exe; Wgalogon.dll, Wgasetup; etc..)
Restart your computer again and live happy and free.
Tags | Howto, Tips and Tricks, Windows, Windows XP