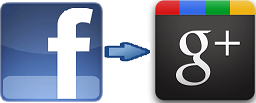 Google announce its longtime rumored competitor of Facebook competitor Google Plus. This service is similar like Facebook News Feed, it allows users to share photos, videos, links or their location with friends. And there is a rumor or FACT that this service will going to kill Facebook (article here). As it is always good to be prepared for bad things in this article we will provide you interesting tip how to Import all your Facebook contacts to Google Plus and save you from bad moments whatever it happened.
Log in your Yahoo Mail account or Create new one.
Now Go to the "Contact" Option and then "Import Contacts". And Authorize Facebook access to your Yahoo! address book.
Wait for a min to Import Facebook Contacts on Yahoo acccout.
Now Your Facebook contacts are on your Yahoo mail Account.
Now Login to Google+ Account and go to your "Circles" Page.
Click "Find and Invite" there, and then click "Yahoo! Import" and "Authorize your Yahoo Account" there, that you used to Import Facebook Contacts.
Now All the contact are on your Google Plus "Find and Invite Page". Now Drag everyone into the appropriate "Circle".
Link: https://plus.google.com
Other Google+ tips:
How to Move Your Facebook Photos To Google Plus (Google+)
Tags | facebook, google, google plus, import, Social Network